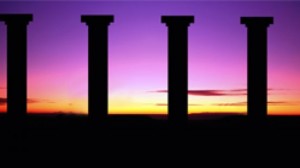 When we founded Forge Communications, we decided it was time for a business model that strived to go beyond the usual.
We wanted our work to focus more on serving our clients' needs and less on the needs of a big staff and even bigger overhead. There's a bunch of great firms that have built very successful businesses with that approach. But we'd been there and done that with prior firms. We wanted a different kind of work experience, and we wanted to do work that makes a difference.
Start in the future
Building on the belief that your future is created by what you do today not tomorrow, at the beginning of every engagement we start at the end. That is, we identify where the organization wants – and needs – to be in the future. Not just next quarter or next year. We focus five years down the road – or more. That's our Magnetic North. We start there and walk back with clients to identify the decisions we need to make today, tomorrow and along the way to arrive at that outcome.
Within this framework, we explore what effect socio-economic trends, technology and emerging ideas in the external environment may have on a client's ability to realize its desired future. Ensuring long-term success demands a long-term focus that anticipates and prepares to manage what likely – and sometimes not so likely – lies around the corner.
We do this by incorporating design thinking into strategic communications.
Design thinking
Design thinking is a methodology for practical, creative resolution of problems. It's a form of solution-focused thinking that starts with the end-goal in mind rather than the problem at hand. By focusing on the present and the future, many facets of the problem and the resolution are explored simultaneously.
Thinking like a designer transforms the way organizations develop and deliver products and services. We believe it also can transform how organizations communicate – for the better.
Our Reputation Design™ process applies design research and thinking to communication planning and strategy. We base our counsel on core truths that never change: what persuades us, what motivates us, what stories connect, and how we humans communicate and understand the world around us.
Your challenges aren't one-dimensional. The advice you get shouldn't be either.
Extraordinary clients, extraordinary service
Our business model is built on doing compelling, challenging and meaningful work for a handful of organizations that recognize for them the value of our approach and team. We're not in business to build an empire. We're in business to solve problems and help smart people make smart decisions about how to do better at what they do. We believe today's economic realities and client needs call for consultants who are nimble, flexible and responsive.
There's no bait-and-switch at Forge. When you buy us, you get us, the owners and principals. Without fail, our clients receive one-on-one attention from experienced, senior professionals.
But extraordinary service by itself isn't enough. It must lead to measurable results. That's why we use metrics developed by the Institute for Public Relations at the University of Florida that measure outputs, outtakes and outcomes.
Outputs: The short-term or immediate results of a communications program or activity, with a focus on how well an organization presents itself to others and the amount of exposure it receives. Outputs comprise the final stage of the communications production process: the development and dissemination of messages and materials.
Outtakes: A measure of the effectiveness of a particular initiative that focuses on whether targeted stakeholders received, understood and responded to the messages or materials.
Outcomes: A longer-term measure of the effectiveness of a particular communications activity that focuses on whether stakeholders changed their opinions, attitudes and behavior.
Do nothing without purpose
This is our mantra: "Do nothing without purpose." That means for us there must be a compelling reason to do – or not do – something. We've learned that clients value that approach because it: (a) is rational, purposeful and smart; and (b) can save a bunch of time and money. We focus on designing a strategy to answer these questions: why are we communicating, to whom are we communicating, what are we communicating about, and, most important, what comes next?
The bottom line? Combining the analytical and the creative, Forge Communications is the right partner for organizations that value one-on-one attention from time-tested, industry-leading professionals who craft research and communication programs that solve problems and strengthen reputations.